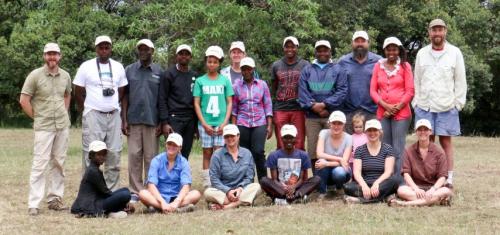 Members of of the The Mara Project along with scientists from the University of Notre Dame, Utah State University, and the University of Montana conducted a short course on River Nutrient Uptake and Metabolism, 31 July – 3 August 2017, in and around the Maasai Mara, Kenya.
The short course included a mixture of classroom lectures and discussion, and field research on the Mara River, Kenya. Participants included students and participants from the University of Eldoret, Egerton University, the National Museums of Kenya, WRMA, and Yale University. The instructors were Emma Rosi and Amanda Subalusky from the Cary Institute, David Post and Chris Dutton from Yale University, Jennifer Tank from the University of Notre Dame, Robert Hall from the University of Montana, and Michelle Baker from Utah State University.  
We would like to thank all of the participants for their hard work and good spirits. We would also like to thank Jen, Bob, and Michelle for making the long trip to Kenya to share their expertise. Asante sana!
The short course was funded by the National Science Foundation.